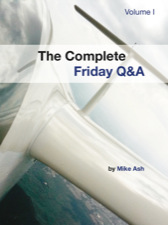 The Complete Friday Q&A: Volume I
by Michael Ash
The Complete Friday Q&A is a collection of articles on advanced topics in Mac OS X and iOS programming. With articles on memory management, performance tuning, Objective-C, system internals, and more, this book is your gateway to becoming fluent in complicated, obscure, and arcane corners of Mac and iOS programming.
A few people have asked which option gives me the most money. First, thanks very much for considering me. Second, I get a good deal from all of them, so please go for the one which suits your needs best. Lastly, if you insist, I get the best rates from the
ePub and PDF digital download
bundle. I also think that this gives the best deal for the buyer too, so it's win-win.